If you're thinking of building an RV park, it's important to know how much does it cost to build an RV park. In this blog post, we'll walk you through every step of the process so you can get a realistic idea of how much it will cost.
We'll also discuss some of the things that can affect the final price tag, such as zoning and permitting requirements. So whether you're just starting to do your research or are already in the planning stages, this is a must-read!
The cost of building an RV park can vary greatly depending on a number of factors. But in general, you can expect to pay between $15 and $30 per square foot to build an RV park. So if you're planning on building a 100-space park, it will cost anywhere from $1500,000 to $3000,000.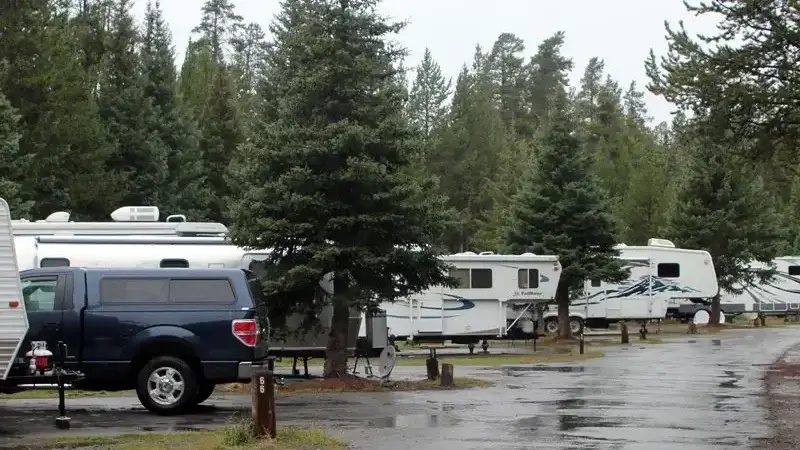 There are a few other factors that can affect the final price tag, such as the type of RV park you want to build.
For example, if you want to include amenities like a pool or clubhouse, your costs will be higher. And if you're building in a remote location, you may have to pay more for infrastructure upgrades like water and sewer.
How Does an RV Park Business Works?
When it comes to RV parks, there are two main business models:
The first is a park that's owned and operated by a single entity. This could be an individual, family, or company.
The second model is a campground where the land is leased from a property owner and then rented out to RVers on a nightly or weekly basis.
There are pros and cons to both models, but the most important thing is to choose one that fits your goals and budget.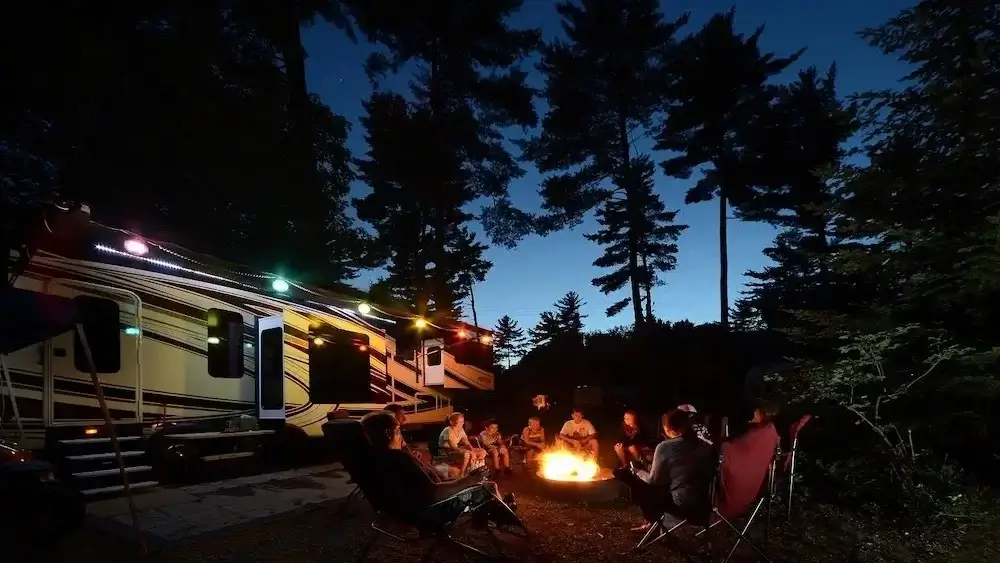 If you're looking to build an RV park, it's important to understand how the business works. In short, RV parks make money by charging people to park their RVs on site. This can be done in a few different ways:
Fixed Fee: The RV park charges a set amount of money for every night a camper stays on site.
Per Diem: The RV park charges a certain amount of money for every day a camper stays on site.
Space Rent: The RV park charges for the amount of space an RV takes up, regardless of how long it's parked there.
In addition to charging campers, many RV parks also offer other services like laundry facilities, bathrooms, and showers. This can help attract more customers and increase your profits.
How Much Does It Cost to Build an RV Park?
Creating an RV park can be a lucrative business venture, but it's important to understand the costs associated with it before you get started. This guide will walk you through everything you need to know in order to create an accurate estimate for your project.
Also Read: How To Get Rid Of Flies While Camping: 19 Easy Ways!
Land and Acreage Costs
The cost of land and acreage is one of the most important factors in determining the overall cost of your RV park.
It's important to consider things like how much space you'll need, what kind of features and amenities you want to offer, and how close you are to major population centers.
As a general rule, the cost of land and acreage ranges from $15,000 to $50,000 per acre. One important consideration is the location of your park.
RV parks that are located near major population centers or tourist destinations will typically be more expensive than those in rural areas.
Zoning and Permitting Fees
Once you have purchased the land for your RV park, the next step is obtaining the proper zoning and permitting.
This process can be time-consuming and costly, so it's important to start early.
The fees for zoning and permitting will vary depending on your location, but typically range from $500 to $2000.
Site Development
In order to build an RV park, you'll need to develop the site. This includes things like building roads, installing utilities, and creating parking areas.
The cost of site development will vary depending on the size and complexity of your project but typically ranges from $10000 to $50,000.
Parking Spaces
One of the most important features of an RV park is the number of parking spaces available. The average cost per space ranges from $2000 to $4000, so it's important to calculate this cost into your budget.
Additional Features
In addition to basic parking spaces, RV parks can offer a variety of features and amenities to their guests.
This includes things like swimming pools, playgrounds, and convenience stores. The cost of adding these features will vary depending on your location and the level of amenities you want to offer, but can easily run into the tens of thousands of dollars.
Employees
In order to operate an RV park, you'll need to hire a staff of employees. This includes managers, maintenance workers, and security personnel. The cost of employee salaries can be significant, so it's important to budget for this expense.
In addition, you'll also need to account for the cost of maintaining your park. This includes things like mowing the lawn, cleaning the bathrooms, and fixing broken equipment.
Operating Costs
Once your RV park is up and running, there are a number of ongoing costs that you'll need to consider. This includes things like salaries for employees, insurance premiums, and utility bills. The average annual operating cost for an RV park is around $20000.
Bonus: Marketing
Creating a website and social media pages is a great way to market your park to potential guests. You can also distribute flyers and brochures at local tourist destinations and campgrounds.
Offering discounts or special promotions can be a great way to attract new customers. And, last but not least, word-of-mouth marketing is always a valuable tool.
Total Cost to Build an RV Park?
So, what does this all add up to? The total cost of creating an RV park typically ranges from $300,000 to $500,000. While this may seem like a large investment, it's important to remember that the potential profits can be equally as large.
Read More: How to Get Internet While Camping (Top 11 Hacks)
With the right planning and execution, an RV park can be a lucrative business venture.
If you're considering creating an RV park, this guide should give you a good idea of what to expect financially. By understanding the costs involved, you can create a budget that will allow your project to be successful.
How Much Can Visitors Pay to stay at Your RV Park?
The cost of your RV park will largely depend on the amenities that you offer and the location of your park.
However, as a general rule, you can expect to charge anywhere from $10 to $100 per night for a spot in an RV park. Keep in mind that this price may vary depending on the season.
If you want to attract more guests, you may want to consider offering discounts for longer stays or special deals for groups. You can also offer extras such as Wi-Fi, cable TV, and laundry facilities.
Remember that it's important to price your park appropriately in order to cover your costs and make a profit. However, you also don't want to charge too much, as this could deter guests from staying.
How to Build an RV Park from Scratch?
If you are planning on building your own backyard space to create a private RV park, there are some important considerations that you will need to keep in mind.
Before you start construction, make sure that your plans meet all of the association's rules, regulations, and ordinances.
While the construction of every RV site will be unique, generally speaking, you should follow these guidelines:
Use natural materials (wood, stone, etc.) to create a rustic appearance. This will help your park blend in with its surroundings and avoid looking like an eyesore.
Consider planting vines, shrubs, and trees around your site. This will encourage privacy and create a more secluded feel. Make sure that there are no obstacles or barriers blocking the view of your guests. You can achieve this by maintaining a clear area surrounding each space.
Also Read: DIY Guide: How to Secure a Tent Without Stakes (Makes it Easy)
To maintain the safety of your visitors, you will need to provide a safe place for them to park their vehicles. You may also want to provide more space on the sides of each site if your guests are planning to use their RV as a storage space.
Finally, before you open your doors, you will need to make sure that all of your utilities are connected and functional. Make sure that water is accessible at each site and that all of the hookups are in good condition.
In order to make sure your guests have a pleasant stay, you will also want to invest in a few amenities, such as:
A reception area where visitors can check in when they arrive. This should include a reservation book, maps, and brochures.
Customer service representatives so you can handle any guest complaints or questions. A service provider on call, such as an electrician, plumber, etc. This will allow you to immediately address any issues that require attention around the park.
Security cameras throughout the site to keep people safe and secure at all times. This is especially essential if your RV park is located in an isolated area.
A vending machine that sells small items, such as snacks and toiletries.
A laundry room with machines for washing clothes.
Parties for kids where they can interact with each other and have fun. This will keep them occupied while their parents are off exploring the park or taking part in activities around it.
How Much Money Can a Campground Make?
This is a difficult question to answer, as there are so many variables involved. However, according to the National Association of RV Parks and Campgrounds (ARVC), an average campground will generate around $900 in revenue per campsite each year.
So, if you have 100 campsites, your park could bring in $90,000 in revenue annually.
Of course, your park's profitability will depend on a variety of factors, including the location, the amenities offered, and the price point you set. But this gives you a general idea of what to expect.
Now that you have a better understanding of how much profit your park can bring in, it's time to start thinking about the costs involved in building and running your park.
In this section, we'll break down the main costs associated with RV parks so you can get a better idea of what to expect.
What Should I Know Before Starting an RV Park?
There are a few things you will need to take into account before starting construction on your RV park.
The first is the zoning of the property. Make sure that you are allowed to have an RV park on the land you own or are planning to purchase. You will also need to make sure that there is adequate space for the number of campsites you are planning to build.
Another thing to consider is the access to your park. You will need to make sure that there is a good road in and out of the property. This will be important for both guests and service vehicles.
The next step is designing the park itself. This includes deciding on the layout of the campsites, common areas, and support facilities.
Once you have the design in place, you will need to get permits and approvals from the necessary agencies. This can include your local municipality, state department of transportation, and state parks commission.
The final step is construction! Make sure that you have a good contractor who is familiar with building RV parks.
How Much Does It Cost to Build a Backyard RV Park?
First, you will need to determine how much money you can afford to invest in your project. Even though the upfront costs of building a site from scratch can be daunting, it often offers more flexibility compared to other options.
However, you should keep in mind that there are other costs associated with starting a park from scratch. They include:
Land
While you can buy an old or abandoned lot, keep in mind that it will require upkeep. In addition to purchasing the land, if the site is located outside of your home, you will also need to pay for its general maintenance and utilities.
Construction
If you are starting from scratch, it will be necessary to build each space individually. This can take a significant amount of time and money. You may need to hire an architect who specializes in construction for RV parks or an experienced professional who can advise you on the best way to design your site.
Equipment
Since each lot will require it sown hookup, you will need to make sure you have the proper equipment. This can prove to be costly and time-consuming if you are forced to rent each site individually.
Amenities
As mentioned above, your guests will expect certain conveniences such as bathrooms and laundry facilities. These items should already exist on the grounds of an existing park.
What Is the Average Size of an RV Campsite?
The average size of an RV campsite is anywhere from 20 to 55 feet wide and can accommodate RVs up to 40 feet in length.
Larger sizes may be available depending on the location and campground amenities. Some parks offer pull-through sites that are specially designed for larger RVs.
When planning your trip, be sure to check the campground website or call ahead to inquire about specific site sizes.
RV parks come in all shapes and sizes, from small mom-and-pop operations to sprawling resorts with every imaginable amenity.
But no matter how large or luxurious the park maybe, the cost of building and maintaining it is essentially the same.
Conclusion
How much does it cost to build an RV park? That's a difficult question to answer since there are so many things that need to be taken into consideration.
But this article should give you a good idea of what to expect financially. Hopefully, this will help you plan for your project in advance, making sure that it can be executed successfully.